PowerPlus Industrial FAQ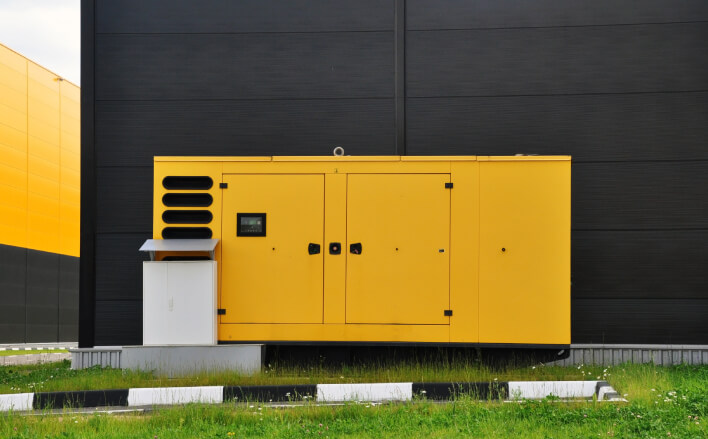 1. What is the difference between an AC Generator and a DC Backup Generator?
AC and DC Generators utilize electromagnetic induction to generate electricity. In an AC Generator, the alternating current that is produced reverses direction periodically as the coil through which current flows is fixed. The magnet, however, moves, resulting in the generation of alternating current. On the other hand, a DC Generator consists of a direct current that flows in one direction only, as the coil is not fixed but rotates in a fixed field.
An AC Generator powers smaller appliances such as coffee machines and computers. Alternatively, a DC Generator powers large electric motors such as those used in a subway system. Learn more about the difference between AC generators and DC backup generators.


2. What are the 8 camping gear must-haves?
The month of June, which is the official National Camping Month, has commenced this year's camping season. PowerPlus recommends packing the following eight main camping gear must-haves this camping season:
Tent
Sleeping bag
Sleeping mattress
Camping chairs and hammocks
Lantern
Cooking system
Medical kit
Generator
3. How can I prevent power generator failures?
The most important step is to rent/buy a power generator from a reputed business such as PowerPlus for assured quality.
Do not ignore generator alarms that offer service/maintenance notifications. Utilize remote monitoring to keep an eye on battery voltage and fuel levels to avoid power generator failures.
4. What are California's state laws regarding hospital backup electrical power?
In California, state laws require hospitals to install backup generators with sufficient on-site fuel to power the facility for 24 hours in the event of an emergency. These must also be kickstarted within 10 seconds of the outage.
5. Should I buy or rent a generator?
Generator prices can range from $150 into the thousands. But not everyone has that kind of money to invest. Once you purchase your generator, you will be responsible for all maintenance and repair costs. Even installation requires a paid professional who has a clear understanding of standard operational procedures.
However, renting a generator from a reputed business such as PowerPlus gives you the freedom to choose from a range of models and sizes. More importantly, you are not responsible for maintenance and repairs.
6. What is the basic difference between a portable and standby generator?
Portable generators are powered by gasoline and are easy to use.
Standby units, on the other hand, are powered by natural gas or liquid propane, and must be installed professionally.
You can choose one of these two common generators for your home or business needs to enjoy uninterrupted power.
7. Can you provide an example of a power generator being used for temporary power solutions?
During an acute water outage in the City of Marlin, the Texas Baptist Men of the Baptist offered residents a trailer with 6 shower bays, washers, and dryers – all powered by an electrical power generator.
8. What type of generators are suited for homes and commercial enterprises?
Due to the limited electrical needs of a home, portable power generators are the perfect choice. You can also use a standby power generator that kick starts automatically in the event of an outage.
However, businesses and offices that require large amounts of power can utilize a commercial power generator. For buildings even larger, PowerPlus recommends a three-phase generator.
9. What factors should I consider before buying a commercial generator?
PowerPlus offers rentals of two types of commercial generators: single phase or three phase generators (for heavier and specialized equipment). However, before investing in one of these, consider the following factors:
Check what National Electrical Code governs your generator installation. The details are provided in articles 700, 701, 702 and 708 of the 2008 version. Contact your building inspection department if there are additional requirements as per city/state ordinances.
Do your research on specialized equipment such as those with large motors or those that are sensitive to power surges. Always check labels for information related to amperage and voltage.
Finally, calculate the total power requirements of your commercial enterprise. This can be done through the Measurement or Motor Usage method or the History method.
10. Which type of power generator do I need?
At the outset, PowerPlus recommends renting a generator to save costs and avoid the hassle of maintenance.
Battery powered generators, also known as power packs, can be recharged using a standard electrical outlet and have the capability of storing backup power for months.
A gas powered generator, on the other hand, is more powerful and can power up bigger appliances including refrigerators and freezers.
Read on to find out which power generator is suited to your needs.
11. What are the safety factors to consider while investing in a gas-powered generator for my business?
Renting a power generator from PowerPlus gives you peace of mind as we shoulder the responsibility to deliver, install and maintain the equipment.
If you are looking to invest in a gas-powered generator, it is important to place it in a well-ventilated area to avoid carbon monoxide exposure. Other equipment that can cause carbon monoxide poisoning include gas grills and kerosene heaters.
12. What questions should I ask a supplier/manufacturer before investing in a backup generator?
It is great that you have decided to buy or rent a backup generator in the event of a power outage. But with so many manufacturers and generator services providers, it is difficult to choose. PowerPlus recommends asking the following questions to make the right decision:
What levels of service do you recommend for me?

What differentiates you from other power solution companies?

What type of systems do you maintain? And what is included in your maintenance?

What is the typical response time if I have an issue?

What are my backup generator options?

What role does the supplier play after a backup generator is purchased?

13. What are the factors to consider while installing a backup generator?
If you are looking to install your generator, there are four important things to consider:
Placement of the generator is key

Ensure the generator is placed in a well-ventilated area

Fuel options to choose from such as natural gas and diesel

Generator extras such as noise cancellation and additional fuel storage

14. How do I ensure I use my generator safely during a power outage?
In the event of a power outage, ensure you follow these tips to operate your generator safely:
Do not run the generator indoors or in an enclosed area

Place the generator outside, away from windows and doors so carbon monoxide cannot be drawn indoors

Fit a carbon dioxide alarm in your premises

If you feel dizzy or sick, ensure you get outdoors for fresh air immediately

Ensure the generator is always dry to avoid shocks or electrocution

Use heavy-duty extensions cords with your generator as these are more durable outdoors

15. How should I care for my commercial power generator?
Follow this checklist from PowerPlus for the proper maintenance and service of your power generator:
Check the oil

Maintain air/oil filter

Use the right oil

Change the spark plug

16. Why does my commercial backup generator need an Automatic Transfer Switch?
Installing a generator at your business ensures you have power even during emergencies. However, it is important to have an Automatic Transfer Switch (ATS) to ensure there are no delays during the outage. But why is it important to have an ATS?
Safety: An ATS avoids the need to manually turn on the generator, which can be dangerous for employees to do, especially during harsh weather conditions or at night.

Reliability: Avoid a drop in productivity through uninterrupted power supply with an ATS.

Simplicity: It is automatic, reducing the need for employee effort.

PowerPlus also recommends having an AMF panel along with the ATS to:
Monitor incoming AC main supply

Activate backup generator when the main power fails

Automatically transferring electrical load to generator

17. What are the myths surrounding backup generators?
Having a backup generator for your home or business offers several benefits. However, there are several myths that people must stop believing to safely use and maintain the generators:
The size of the generator does not matter

Generators do not need regular maintenance

Generators are DIY projects

There is not need for Automatic Transfer Switches

Power outages are not expensive for a business

All generators use the same fuel

18. Why does my business need a backup generator?
For a business, a power outage even for a minute can result in the loss of valuable data that has not been backed up. This, in turn, can cost the business thousands of dollars. Thus, a backup generator ensures you are always connected.
19. What kind and size of generator should I get for my business?
Analyzing the amount of power you need to keep your business running efficiently during a power outage can help you determine the size and kind of backup generator you need. Broadly, these are the kinds of backup generators and their characteristics:
Portable generators: These are small and easier to move around. They offer temporary power generated through gas or diesel fuel.
Standby generators: These generators offer a more permanent power protection and consist of an Automatic Transfer Switch that offers uninterrupted power.
Inverter generators: These portable, smaller generators offer less power.
20. Which generators are the quietest for my business?
Having a noisy generator at a home or business can be a nuisance. PowerPlus recommends investing in an automatic standby generator or an inverter generator, which are considered quieter than other models.
21. When are generators used?
The two most common uses of a backup generator are:
Standby, uninterrupted power for a business

Temporary power for construction sites

22. How much do generators cost?
The cost of a generator is largely dependent on its size and amount of power it is required to generate. Small businesses can purchase a generator for about $2000. However, larger businesses with greater power needs may need to invest $15000 to $50000 or more.
23. How do you safely operate a backup generator?
PowerPlus recommends professional installation and maintenance of your backup generator as these can be dangerous for a layperson to operate. We offer renting, installation, and maintenance of all our backup generators.
24. Are generators worth the price?
For a business, losing power even for a minute can lead to a revenue loss of thousands of dollars. A backup generator can avoid this with the supply of uninterrupted power. PowerPlus recommends renting or purchasing a backup generator for big cost savings in the long run.
25. Do I need an emergency power generator?
A business can be adversely affected by power blackouts or natural disasters such as hurricanes and storms. It is important to safeguard your business and employees with an emergency power generator that provides temporary power. PowerPlus recommends a portable generator system that runs on natural gas or propane gas. These can provide uninterrupted power for days until power is restored. Contact PowerPlus for deals on generator rentals, installation, and maintenance services today.
26. What are smart grids?
A smart grid is an electric power grid that comprises new technologies to improve the efficiency and reliability of the grid. It offers more relevant reporting data, which can be utilized by computers to manage power in real time. A smart grid can also reroute power automatically in the event of a power outage.
27. What are the simple tips to consider before buying a generator?
At the outset, you must determine your power needs to choose the right size and wattage of your generator. For larger appliances, such as air conditioners or ovens, it is important to invest in a more powerful, larger generator.
Regardless of the size, your generator model must be equipped with a transfer switch, connecting the portable generator to the home circuit.
The two main types you can choose from are:
Portable generator: These are small or medium-sized and cost anywhere between $400 - $1000.

Standby generator: These are permanently mounted outside the house and can power a whole house.

Contact PowerPlus for more tips on choosing the right power generator suited for your home or business.
28. How does a power outage impact network systems?
In the event of a power outage, your remote site can lose complete power if you do not have a backup commercial generator. This can lead to loss in revenue as well as inconvenience to your customers who may move their business elsewhere. A total power outage can also adversely affect your equipment, which can cost thousands of dollars to repair or replace.
29. What do I do if my landlord does not provide backup power solutions for my office building?
As a business owner, it is important to be prepared for emergencies and natural disasters. However, what do you do if the landlord or owner of your office building refuses to provide backup power? Follow these tips from PowerPlus:
Send a request to the landlord/owner in writing

Find a supplier of rental backup generators

Get an estimate for the rental generator so this amount can be deducted from the rent

If the situation is still not improved, consider moving into a new building

30. What should I know about standby generators?
Having a business is a huge responsibility. And one of the most important factors to consider is uninterrupted power supply to avoid losses in valuable data and revenue. Standby generators can be perfect for a business as it automatically kickstarts if the power fails, thereby never leaving your business in the dark. Characteristics of a standby generator:
Standby generators are permanently mounted on a concrete slab outside the building.

These generators can provide uninterrupted backup power for days.

They are equipped with an automatic transfer switch.

They can potentially be loud, so it is imperative to check the noise ordinances in your city before investing in them.

The logistics and load needs of these generators must be assessed by a professional.

These generators consist of advanced electrical and plumbing needs, thereby requiring an expert for installation and maintenance.

After continuous use of 24 hours, it is important to service these generators.

31. How can I ensure my business has backup power during a crisis?
PowerPlus recommends the following ways in which your business has backup power during a crisis:
Assessment of risks including those due to utility interruptions and production downtime.
Renting or buying a standby generator to avoid significant cost implications due to the outage.
Storing sufficient fuel for the generator to last a few days.
Ensuring your backup generator is serviced periodically so it can work through the emergency.
Ensuring the generator and fuel are stored safely.
Mounting the generator in an open space to ensure carbon monoxide does not enter the building.
Checking your power load and updating the switchgear to protect devices and equipment.
32. Should my business have an emergency preparedness plan?
As a business owner, you may not know how emergencies such as power outages or natural disasters may affect your business. However, having an emergency preparedness plan in place can reduce and address risks before disaster strikes. The main goal of such a plan is to minimize the impact of unforeseen circumstances and maintain business continuity. This, in turn, helps reduce financial losses.
Apart from natural disasters, some of the most common emergency situations included in the emergency preparedness plans must be burst pipes, internet downtimes and power outages.
PowerPlus also recommends hiring a facilities management professional to handle the emergency preparedness plan. What are the elements of a disaster plan?
The designation of the person responsible for the implementation of the emergency preparedness plan.

List of resources and procedures for an emergency situation

Identification of risks to critical functions of the business

Assessing the cost breakdown of the downtime

Conducting drills to test and modify then plan, if needed

Coordinating with all levels of management to identify their roles in the plan

33. What are the safety precautions I should take before handling a power generator?
Installing a power generator at your business or home comes with its own set of responsibilities. PowerPlus recommends hiring professionals for installation and maintenance. However, there are a few safety precautions you can take before handling the power generator:
Install the generator outdoors, away from doors and windows
Equip your premises with a carbon monoxide alarm
Dry your hand thoroughly before handling the generator to avoid electrocution
34. How do I choose an emergency generator for my home?
PowerPlus outlines these simple steps to pick a generator suited to your home:
Assess your family's needs and make a list of essential appliances that must be powered simultaneously.
Once these appliances are chosen, check the running watts and starting watts for each.
The sum total of the running watts is the wattage you will need for your home in the event of an emergency
When looking to purchase your generator, show these numbers to an expert such as PowerPlus who can help you choose the perfect one.
35. How can I maintain my power generator?
PowerPlus, leading emergency power generator suppliers, has heard of all the stories of a power generator crashing. Follow these simple tips to ensure your generator is looked after:
Invest in a maintenance-free battery that uses water to refill its cell
Replace the battery every three years and do not expose it to air, to avoid lowering of electrolyte levels
Ensure your generator unit is equipped with alarms that indicate low battery or failure to charge.
Hire experts such as PowerPlus to fuel your generator.
Exercise your generator periodically i.e., release air into the system to meet emissions requirements.
Never operate an automatic transfer switch manually if you are not used to it.
If you see a black liquid oozing around the exhaust pipe connections, it means the fuel in the tank is not completely burning in the combustion process. Contact a professional immediately.