Standby Generators - What You Need to Know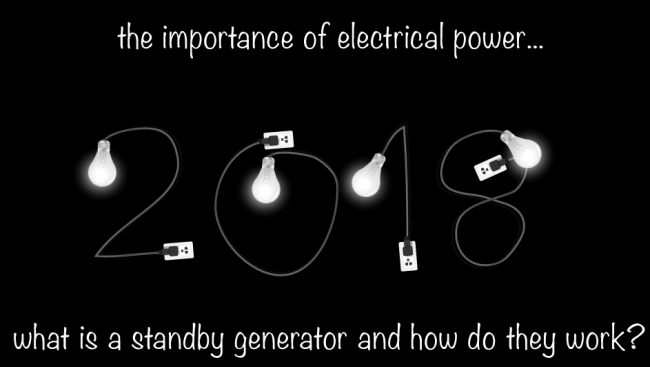 Power outages and natural disasters are bound to occur. But you want your business to be prepared. Purchasing a standby generator can help you weather the storm – both literally and figuratively. A standby generator is a back-up system that operates automatically if the power fails.
What They Are
Standby generators are installed permanently on a concrete pad and will provide uninterrupted backup for days.
How They Work
When the standby generator detects an interruption in service, it activates an automatic transfer switch. An internal combustion engine, which is the heart of the system, is fueled by a local gas supply, but can also be fueled by propane or diesel. When the power turns back on, the switch shuts down the standby generator and reconnects your power to the grid.





Installation
Before you install a standby generator, see if your city has any noise ordinances. A stand-by generator can potentially be loud, so it's a good idea to find that out first. Also, be sure to look into your building codes. Some buildings may require generators to be further from the building.
Hire a Professional
You'll want to have a professional assess your load needs and the logistics of installation. Standby generators require advanced electrical and plumbing skills, knowledge of local building codes, and permits. Hire an expert to help you through!
Budget and Size
The bigger the generator, the more circuits it can power, and the more fuel it needs. Be aware of your budget as you look for a standby generator for your business!
Take Care of Your Standby Generator
After 24 hours of continuous use, you'll want to get it serviced.
Be sure to take care of your standby generator by continuously checking on it and getting it serviced. You should:
Check the engine oil daily during use
Never run it at more than 75 percent of its rated capacity
Replace overworked or deformed motor brushes
To learn more, contact Power Plus at (800) 863-2525.

Power Plus! is a leading provider of reliable non-radioactive power generators across the United States and Canada.
Have a question or comment for Power Plus!? We'd love to hear from you!
Please provide your contact information and we'll get back to you as soon as we can.

Contact Power Plus @ (800) 863-2525 | sales@powerplus.com