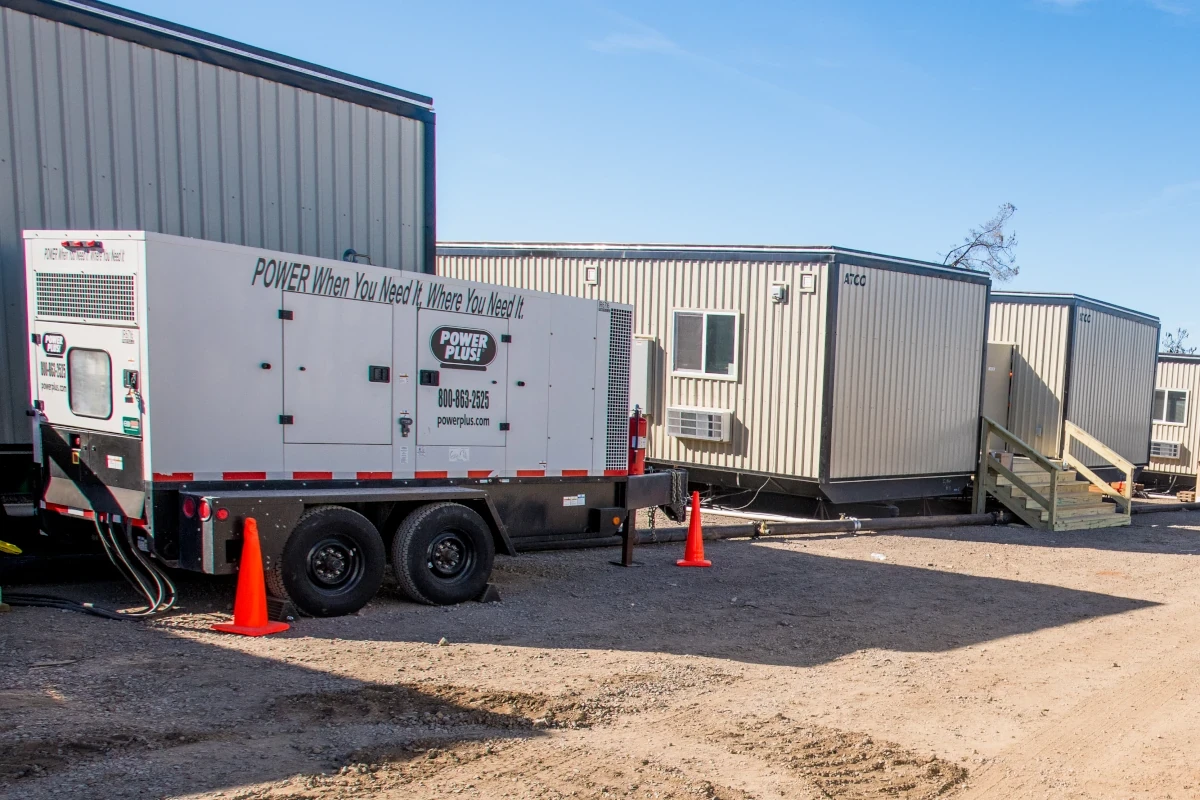 Disaster Response - Disaster Relief Generators For Emergency Power Solution
---
Need Emergency Power Now?
Disaster Relief Generators
During a disaster, having power can be a matter of life or death. Our experienced disaster response task force has responded to numerous disasters including most every hurricane making landfall in the last eight seasons. We offer Standby Contracts to ensure availability as well as Disaster Planning and Disaster Generator services to help you plan ahead. With our 40 foot Mobile Command Center, immediate tactical deployment of life-saving portable power is always in a state of readiness. Whether fire, flood, hurricane or earthquake our knowledge, resources, experience and equipment make Power Plus your dependable disaster generator and response power resource.
Get Emergency Power Now!
Emergency power can be easily overlooked, but when the power goes out in the middle of a critical project, or a natural disaster strikes, having access to emergency power can be a lifesaver. Power Plus has the resources, experience, and equipment to provide standby contracts, disaster planning, mobile command centers, and emergency power solutions. We'll be there when you need us, so you can be prepared for whatever comes your way with disaster relief generators.
Disaster Relief Generator Needs and Uses
There are a few areas that are critical to have emergency power and disaster relief generators for in the event of a natural disaster. These areas are:
1. Cable: When a power outage occurs, it is important to have a reliable source of power to run all of your electrical cables and cords. This ensures that you have the ability to keep all of your electronics running. Maybe a cable is broken or pulled because of a downed tree or other risks, and you need to restore power as soon as possible; that's where Power Plus comes in.
Responders ask for several cable types most often during disaster response work:
4/0: These along with reliable cable boxes provide industries the power required to handle their critical operations in a disaster.
2/5 banded: Workers can use this for a variety of power supply applications; 2/5 banded cable is ideal for delivering power directly to emergency equipment for first responders and recovery crews.
6/4 construction box: Rebuilding is an important part of the disaster relief process, and these construction box cables provide reliable power even in the harshest of conditions.
2. Panels: Panels are essential for providing electricity to all devices during an emergency. It is important to have an emergency power system in place in order to ensure that the power is delivered as quickly as possible.
3. Storm Prep: When a storm is predicted, it is important to have an emergency power system in place so that you can protect all of your equipment during the storm. This includes generators, surge protectors, and other necessary components. This will help protect your electronic devices from the elements, water, and wind.
Get in touch with Power Plus today and let us help you be prepared for whatever comes your way! We have the experience and expertise to provide you with the best possible power solutions for your emergency power needs with disaster generators.