Homeowners Invest $12,000 on Emergency Power Generator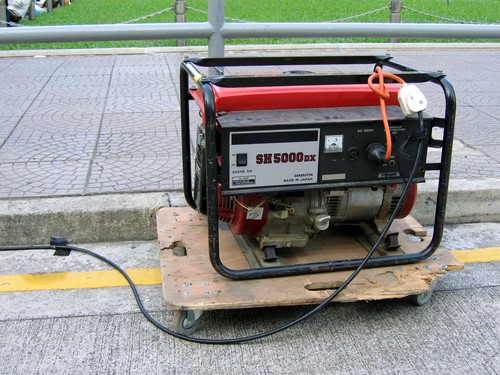 Homeowners Keith and Barbara Wolff won't be fooled again after Tropical Storm Irene cut off the power in their Brookfield, Conn. The Wolffs have spent $12,000 on purchasing an installing a 14-kilowatt emergency power generator.
Never again, they say. The blackout had them covering themselves in layers and layers of clothing to say warm, their food went bad and they had to seek out retail outlets that were still in power just to recharge their cell phones and laptops.
But here's the thing…if the Wolffs were wiser they would have known that companies like Power Plus offer generators of all kinds of sizes and wattage to handle any specific task you set them to. And guess what? They rent the generators out. Which even in the long run, it's a heck of a lot cheaper to rent than to purchase a generator.
Why is that? Well, if you own your temporary power generator then you have to take care of all the maintenance and you're going to have to do tons and tons of reading on how to properly install it and run through standard operational procedures. Only a certified electrician should handle this sort of chore. You don't want something to go haywire or even fry your expensive generator just because you're not a professional.
But Mr. Wolff adds, "It was a pretty hefty investment, but it was well worth it because when it's cold out, you want to at least be able to take a shower. There are two things you can do: Be completely aggravated and non-functional or do a workaround so your quality of life is better."
With generators on the market available for even a measly $150 just to run typical household appliances and items, was it actually wise for the Wolffs to invest that $12,000 on a generator? Chime in below.
Want to read more about their investment? Check out the NY Times article.
Tell us how advantage it's been to have a power generator on hand during an emergency? How did you benefit?

Power Plus! is a leading provider of reliable non-radioactive power generators across the United States and Canada.

Have a question or comment for Power Plus!? We'd love to hear from you!
Please provide your contact information and we'll get back to you as soon as we can.

Contact Power Plus @ (800) 863-2525 | sales@powerplus.com