PowerPlus Generator FAQs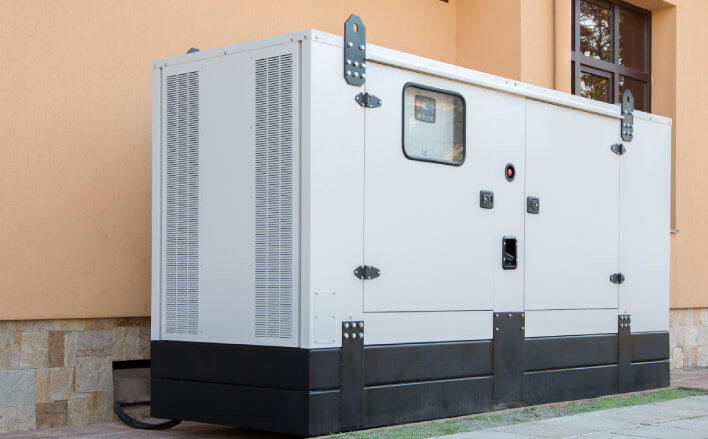 1. What is the difference between AC Generators and DC Generators?
The two main types of backup generators are AC (alternating current) and DC (direct current).
An AC generator creates an alternating current that periodically reverses direction. But in a DC generator, a direct current flows in one direction.
An AC generator is used to power smaller electrical items in your business – such as coffee machines, computers, etc. Alternatively, a DC generator is used to power larger electric motors, even as big as those used in subway systems.
2. What are the 8 camping gear must-have?
PowerPlus recommends these essential camping gear to pack on your next camping trip:
Tent
Sleeping bag
Sleeping mattress
Camping chairs and hammocks
Lantern
Cooking system
Medical kit
Generat Generator such as the Goal Zero Solar Generator Kit
3. Why is my power generator not working?
Firstly, it is important to invest in a generator from a reputed supplier or manufacturer for assured quality. The main reasons why a generator breaks down are:
Battery malfunction
Fuel shortage
Neglecting the alarms that notify you of service and maintenance
It is essential to remotely monitor various aspects of your generator such as battery voltage and fuel levels to avoid expensive repairs.
4. How do harsh weather conditions affect hospitals in California?
During Hurricane Sandy, it was reported that an East Coast hospital endangered the lives of their patients as its generators failed to work. It was found that these generators were neglected since 2007 and did not meet the state's safety standards and requirements.
However, state laws in California require hospitals to be equipped with backup generators with sufficient on-site fuel to power the facility for up to 24 hours in case of an emergency. These must also be kickstarted within 10 seconds of any sort of outage.
5. How can generators help in solving the energy crisis?
Businesses across the globe have been authorized to use power generators during energy crises in their respective countries. Although additional fees will be charged for those using power generators, the fees will be less than those charged for power usage during the potential energy crisis, which is welcome news for businesses.
6. Why should I rent a power generator?
Owning a power generator puts the onus of service and maintenance on your shoulders. You are responsible for any costs incurred during installation, repair, or servicing.
However, renting a power generator from a leading supplier like PowerPlus is advantageous as professionals help you with installation and maintenance of your equipment.
7. Do I need a power generator and if so, what kind?
Due to the increasing frequency of power outages and natural disasters, power generator sales and rentals are on the rise. Let us face it: no one wants to be in the dark, literally and figuratively. Businesses are losing thousands of dollars and loss of valuable data due to power interruptions.
PowerPlus can help you choose the right kind of power generator for your home or business. Portable models are powered by gasoline and are relatively easy to utilize. On the other hand, standby units need to be installed professionally and run on natural gas or liquid propane.
8. Can you give an example of how power generators have helped a city during a water shortage?
The City of Marlin was hit by a water outage as they were replacing old, clogged water pipes.
The Texas Baptist Men of the Baptist provided residents with a trailer with six shower bays with washers and dryers. The trailer was fully functional through power generated by an electrical power generator.
9. How do power generators help in the event of a power outage?
It is said that an average power outage in the US affects over 5,000 people. This includes homes and businesses that now value electricity as a necessary commodity for efficient everyday living and working. PowerPlus, thus, recommends getting a standby or portable generator to reduce the negative impacts of a power outage.
Standby generators: These generators turn on automatically during a power outage and are placed outside a home or business.
Portable generators: These generators consist of a gas-powered engine with an on-board alternator to provide electricity. This type of generator can be manually switched and off.
10. How do I choose a commercial generator for my business?
The effects of a power outage to your business can be extreme with lost revenue and equipment malfunction. Follow these tips from PowerPlus to choose the right power generator for your business:
Do some research to understand what codes and ordinances your city has before installing a generator.
Contact experts such as PowerPlus to get a better understanding of equipment with large motors or those that are sensitive to power surges.
Use the Measurement or Motor Usage method or History method to calculate your total power requirements.
PowerPlus rents out two types of commercial generators to businesses: single and three-phase.
11. Is my business equipped to handle a power outage?
Winter storms and hurricanes can wreak havoc on power lines, resulting in large-scale power outages. Thus, as a business owner, it is imperative you have a backup generator in place.
Power Plus can help you choose the right generator, install it and maintain it. Safety is an important factor to consider. Experts from PowerPlus ensure your generator is safe and poses no hazard to your business or your customers.
12. What are the important questions I must ask before investing in a backup generator?
Speaking to multiple generator service providers to invest in a backup generator can be confusing. PowerPlus gives you the following questions that will help you determine which one is best for your business and provides the services you need:
What levels of service do you recommend for me?
What differentiates you from other power solution companies?
What types of systems do you maintain? And what is included in your maintenance?
What is the typical response time if I have an issue?
What are my backup generator options?
What role do you play after I purchase the backup generator?
13. What are the factors to consider before I install a backup generator?
The 4 main factors to consider as you prepare for installation are:
Placement of the generator
Proper ventilation
Fuel choice
Emergency extras such as noise cancellation
14. How can I ensure safety after installation of my backup generator?
Follow these tips from PowerPlus to ensure safety after the installation of your backup generator:
Never use your generator in an enclosed area
Place the generator outside the home or office building, away from windows and doors
Install your home or office with a carbon monoxide alarm
If you feel dizzy or sick, ensure you get fresh air immediately
Always keep the generator dry to avoid electrocution
Use heavy-duty extension cords designed for outdoor use
15. How often should I change the oil on a backup generator?
Changing the oil on your backup generator is like changing the oil in your car. Read your owners' manual to figure out how often to change it. If the generator is installed at a job site, you may need to change the oil more often, as there can be pollution or dust buildup. And of course, you need to use the correct oil. Just like with cars, certain generators require different oil.
Some manufacturers have different recommendations, but a good rule of thumb is to change the oil after it runs for 25-50 hours the first time. Then, after that you can change it every 60-100 running hours.
16. How do I maintain the air/filter of my backup generator?
Every time you do an oil change, you should replace the air/oil filter. This should happen around every 60-100 hours of use.
17. How often should I change the spark plug on my backup generator?
When you are replacing the air filter, replace your spark plugs as well. Again, this should happen after every 60-100 hours of use. Having a spark plug work too hard can result in damage to your engine. A new spark plug will help the engine run better and last longer.
18. Does the backup generator at my business need an Automatic Transfer Switch?
Avoid costly delays and loss of data with a generator equipped with an Automatic Transfer Switch (ATS). The benefits of the ATS are as follows:
Safety: Switching on a backup generator without the expertise or skill can be dangerous. The ATS ensures the generator works autonomously.
Reliability: Avoid loss of work or revenue with uninterrupted power with the ATS.
Simplicity: The ATS ensures the generator kickstarts as soon as there is a power outage, without the need for manual switching on or off.
19. What are the common myths about backup generators?
PowerPlus has outlined the 6 most common myths people believe about backup generators:
The size of the generator does not matter
Generators do not need regular maintenance
You can manually install or maintain a generator without the skills or expertise
Automatic Transfer Switches are not necessary
Power outages do not cost that much money
All generators use the same fuel
20. Why does my business need a backup generator?
Your business needs a backup generator to keep the power running if the power goes out. Even if the power outage only lasts a minute, you could lose valuable data that has not been backed up. Staying connected can save thousands of dollars for your business.
21. What kind and size of generator should I get?
The kind and size of generator you need depends on the amount of power you will require. Backup generators vary in power, weight, portability, fuel efficiency, noise, etc.
Portable generators
Small, easy to move around
Powered by gas or diesel
Standby generators
Operates automatically
Permanent power solution
Monitors utility power, and uses the automatic transfer switch when needed
Inverter generators
Portable, quieter
Generates less power
Cleaner power
22. Which generators are the quietest?
Noise is a natural byproduct when using a generator. Generally, an automatic standby generator is a quiet option. But the quietest option is a portable, inverter generator, because they are smaller and have less power.
23. How much do generators cost?
The cost largely depends on the size of the generator and the amount of power you will need. On average, generators for a small business can cost $2,000 or more. Larger generators can cost anywhere from $15,000-$50,000, possibly more. However, this does not include the cost of maintenance and service.
24. What are the factors to consider while choosing a backup generator?
Evaluating your power needs is the first step to deciding on a backup generator. Each business will need a different load size. Add up the amount of power you will need by looking at what needs to be powered and how much wattage is required. Next, consider if your generator needs to be mounted or portable. And lastly, you will want to consider the maintenance needed.
25. What is a smart grid and how does it work?
A smart grid incorporates new technologies to improve the efficiency and reliability of the power grid. Computers in the smart grid manage the power in real time and automatically reroute power in the event of an outage.
Smaller grids can also communicate with larger ones or operate independently, if required.
26. What can I do if my landlord does not provide backup power?
If your landlord/building owner does not provide backup power, there are four things you can do to alleviate the situation, depending on the severity of your circumstances:
Notify/request the landlord in writing
Find a power generator that you can rent or purchase to suit your needs
Get estimates from power solution providers that can be deducted from the rent
Finally, if the situation still does not improve, cancel the lease, and move out
27. What should I know before buying a standby generator?
Standby generators are permanently installed outside a building and offer uninterrupted backup power for days.
How they work
When the standby generator detects an interruption in service, it activates an automatic transfer switch. When the power turns back on, the switch shuts down the standby generator and reconnects your power to the grid.
Installation
Check noise ordinances and building codes before the installation of the standby generator.
Hire a professional
You will want to have a professional assess your load needs and the logistics of installation. Standby generators require advanced electrical and plumbing skills, knowledge of local building codes, and permits.
Budget and size
The bigger the generator, the more circuits it can power, and the more fuel it needs. Be aware of your budget.
How to take care of your standby generator
After 24 hours of continuous use, you must get it serviced.
Be sure to take care of your standby generator by continuously checking on it and getting it serviced. You should:
Check the engine oil daily during use
Never run it at more than 75 percent of its rated capacity
Replace overworked or deformed motor brushes
28. How do I ensure my business does not face downtime during a power outage?
PowerPlus offers the following tips to make sure your business has backup power even during a crisis:
Assess all the risks associated with utility interruptions and production downtimes
Rent or buy and install a standby generator
Store sufficient fuel for an uninterrupted power for a few days
Periodically service your generator to ensure it works during a crisis
Check and evaluate your power load to protect devices
29. How to choose the right generator for your home?
Here are some simple steps to help you pick the generator that will work best for you:
The first step is to evaluate which items in the home need to be powered during a power outage
Next, check the running watts of each of the appliances.
The sum total of the running watts is the total running watts you require from your generator during an outage.
Ensure you take these numbers with you when go generator shopping