Face the Hurricane Season with Power Generators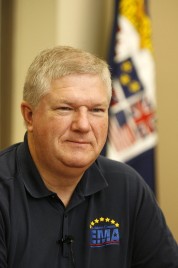 Mitchell Sims, Baldwin County Emergency Management director. (Bill Starling / bstarling@al.com)
With past hurricane storms forever taunting those who experienced them, many are mulling over the do's and don'ts in order to tackle hurricane season.
Emergency power generators? Yes, they must be installed. But purchasing one is incredibly expensive so rental options are something that should be looked at. And if you already have one, make sure to power it up every week and replace any old fuel you have in it. Also, if you need to evacuate during a storm, make sure the facility or shelter you rush off to also has one installed.
Can you monitor the news? Grab a newspaper daily (heck, have it delivered!); power up your smart phones, check the NOAA weather radar. Be sure to have cash on hand, of course. And find out how you can check up on family that is quite some distance away from you.
Have you faced a hurricane before? What sort of precautionary measures did you take?

Power Plus! is a leading provider of reliable non-radioactive power generators across the United States and Canada.

Have a question or comment for Power Plus!? We'd love to hear from you!
Please provide your contact information and we'll get back to you as soon as we can.

Contact Power Plus @ (800) 863-2525 | sales@powerplus.com