Common Industrial Generator Problems and Solutions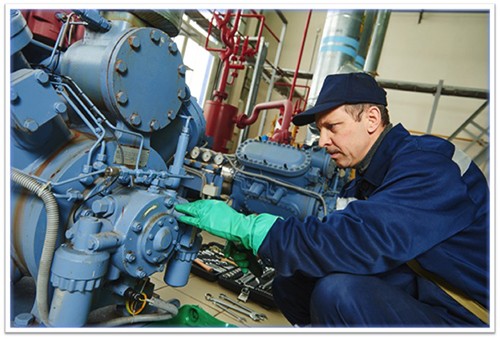 Portable generators can malfunction for many reasons. When operating in an industrial environment, one can expect and must prepare for the inevitable.
Below are some of the most common industrial generator repair issues affecting businesses today, along with possible solutions.
Low Coolant Level Alarms/Shut-down
The most obvious cause for a low coolant level is either an external or internal leak. While many portable generators are equipped with this alarm, few generators have a dedicated alarm indicator for low coolant. Usually, this alarm will be tied into a high coolant temp shutdown. If the generator is equipped with an "Approaching High Coolant Temp Alarm" or "High Coolant Temp Pre Alarm," you can determine which fault caused the shutdown.
Related: Step-by-Step Guide: How Do I Get Temporary Power to My Construction Site?
Block Heaters
The block heater actually heats the coolant, which circulates around the engine block. Keeping the engine block warm prevents the oil from becoming too thick in cold temperatures.
A common misconception is that the engine does not need a block heater in warm climates. A block heater does more than help the engine to start in cold weather. Due to the dissimilar metals that the engines are built with, accelerated wear can occur during start-up. The pistons, normally made of aluminum, will expand at a faster rate than the iron cylinder liners. This rapid expansion of the pistons can lead to scuffing of the piston skirt.
Block heaters relieve most of this scuffing by maintaining the cooling system temperature and keeping the cylinder liners expanded.

Low Coolant Temp Alarms
Low Coolant Temp Alarms are mainly the result of faulty block heaters. These heaters run 24 hours a day, 7 days a week, and periodically, they are going to fail.
A block heater, however, will never cause the engine not to run. The extreme temperature inside the block heater is what causes the coolant to circulate through the system. At times, you can hear the coolant boiling inside the block heater.

Leaks – Oil, Fuel, or Coolant
Leaks can be prevented by performing routine maintenance. Most often, oil leaks are not, in fact, leaks, but the result of "wet stacking" (or "engine slobber"). Wet stacking is the accumulation of carbon particles, unburned fuel, lube oil, condensed water, and acids in the exhaust system.
The most common coolant leak occurs in the block heater hoses. Due to the extreme temperatures produced by the block heaters, it causes the heater hoses to fatigue more quickly.
The most common fuel leak service calls are due to overfilling of the base tank. This is typically caused by human error or a failure of a pump system. To prevent this from occurring, it is always recommended that you have a trained professional fuel your portable generator.
Controls Not in Auto
Portable generators have a control panel. This panel controls all aspects of the settings, running, and shutdown of the portable generator. It displays all critical engine and alternator information and displays any "faults" that have caused it to shut down the generator. 99% of service calls received for generator controls "Not in Auto" are the direct result of human error.
The obvious reason for this is that the main control switch has been put into the "Off/Reset" position. The control switch may have several positions, as in "Off/Reset" and "Cool Down," which will cause the portable generator not to start in the event of a power outage. These positions should give an alarm. "Not In Auto" is a generic term for the unit not being shut off and may not actually be the main control switch.
Alarms not reset, breakers open, switch gear not reset and emergency stop buttons activated are all examples of not in auto failures. Several generators are set up to short trip the main circuit breaker during an emergency fault shutdown. When the portable generator shuts itself down (for any reason), someone has to physically reset the control panel to clear the alarm.
Fuel Bled Back Into the Tank / Generator Will Not Start
This is a common problem with newer generators that are not exercised on a regular basis. Closer tolerances within the fuel systems to meet today's emission requirements make fuel systems more susceptible to air affecting the ability of the generator to start up. This is not as common with older generators. Older portable generators that experience this problem may have a leak in a line or check valves that are not properly holding the fuel in the engine.
Engine Ran Out of Fuel
Mechanical fuel level gauges may not always be accurate. Unlike a vehicle that is moving and using a higher percentage of its tank's capacity, a generator tank has no movement, causing the fuel to become stagnant. Mechanical gauges may also stick in a position until vibrations break them free. Some portable generators are equipped with "Low Fuel Level Shutdown" or "Critical Fuel Level Shutdown." The control panel will shut the generator down to prevent the fuel system from taking in air, when fuel depletion is imminent.

High Fuel Level Alarm
High fuel level alarms are required by government regulations to prevent the overfilling of a fuel tank. The alarm should activate when the fuel tank reaches between 90-95% capacity. This lets the person fueling the tank know when they should stop filling. There is normally nothing wrong with the portable generator when this alarm activates.

On rare occasions, the natural thermal expansion of the fuel will cause the alarm to activate. This will usually occur on an extremely hot summer day. High fuel level alarms may or may not clear themselves when the fuel level drops below the set point. You may have to manually reset the alarm when the fuel level drops.
Breaker Trip Not Related to the Generator
This service call will usually come in as "We are in a power outage, and the generator doesn't start." First, verify that nobody has accidentally pushed a remote "Emergency Power-Off Switch."

The status of the automatic transfer switch should be checked during a power outage. The ATS should have some kind of lights or display showing the switch position and source availability. Never try to manually operate an automatic transfer switch if you do not know how to do so properly. Severe bodily injury or immediate death can occur.
The transfer switch is smarter than you may think and has a specific reason for being in the position that it is in.
"My Generator is Running!"
After a local power outage, many service calls come in stating that "utility power is back on and the generator is still on." There are a couple of reasons for this. One reason is a timer delay in the automatic transfer switch that will keep the generator online until the automatic transfer switch sees a steady supply of clean power coming from the utility grid. This timer is usually set between 15 and 30 minutes.

Any glitch in power within that time will restart the timer. Another reason the generator will stay online is the In-Phase Monitor. The automatic transfer switch may be set to have the phase angle of the generator match the phase angle of the utility grid prior to re-transfer.


Auto Generator Repair Near Me/ Diesel generator repair near me.

Power Plus is the nation's largest independent service organization for generator service and maintenance of your stand-by power systems. Using an expert is essential as they have knowledge that you may need, like knowing how to fix a generator with no power or how to reset the maintenance light on a genrac generator.
You can't predict how your generator will react in an emergency unless it's run at full capacity and given a chance to function. Not having it serviced or repaired can lead to generator failure and more expensive repairs. An expert can easily help you with function generator repair and motor generator repair by troubleshooting issues and finding the best solution for you.



Power Plus! is a leading provider of reliable non-radioactive power generators across the United States and Canada.
Have a question or comment for Power Plus!? We'd love to hear from you!


Contact Power Plus @ (800) 863-2525 | sales@powerplus.com