Temporary Power Poles - How to Decide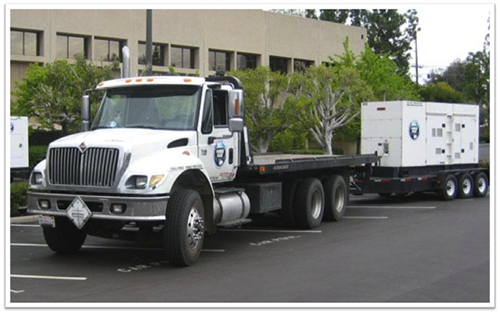 Temporary Power Poles or Rental Generator is a decision that comes up often when starting a new construction project. Determining which method of temporary power would be cost effective is not always obvious, and managers occasionally struggle making that decision.

Some managers are more comfortable and experienced with temporary power poles and other times they weighed toward rental generators without considering all the costs associated with each option.
Portable Rental Generators Cost Considerations
The diesel power generator itself is fairly inexpensive, however when you add all the other running factors in, service and maintenance, diesel fuel, environmental fees, pick up, delivery, power distribution, the costs become fluid and dynamic. Often times we find that a manager has experienced the costs associated with a smaller size (20kw) unit and extrapolates those costs out for moving up in size to a larger unit such as a 500kw.

The assumption that is made is that the operational price increase will stay consistent with the increase in unit rental rate. However, it will multiply exponentially due to the amount a larger rental generator will consume in diesel fuel and quantity of petroleum products and filters required for maintenance. Also, as you move up in size your electric power distribution cords and labor to install also increase
Temporary Power Cost Considerations
When thinking about temporary power or electric power distribution often time we find managers making a round hole, square peg assessment. While temporary power from the utility is an affordable choice when it comes to sourcing power it some time may not be the right choice for project savings, for instance a manger may have a great experience with a temporary power distribution system with a longer and larger project. However in some cases a small fast build project may, in fact, be cheaper to run a small generator on.

Rental Power Factors
• Amount of Rental Power Required
• Distance to the project from the source
• Type of source
• Duration or length of time the power is needed
• Voltage requirements: Single, Three Phase or Both.
Temporary Power or Rental Generator
There are a lot of costs to consider in making the decision for temporary power service. The best way to decide it to call a professional company that offers both services and have them quote your project on the Rental Power factors above and have them explain the services in total for the duration of the project.

Power Plus! is a leading provider of reliable non-radioactive power generators across the United States and Canada.

Have a question or comment for Power Plus!? We'd love to hear from you!
Please provide your contact information and we'll get back to you as soon as we can.

Contact Power Plus @ (800) 863-2525 | sales@powerplus.com