Emergency Power Outage Preparation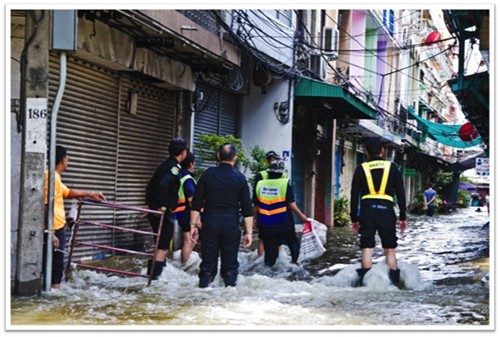 An emergency power outage can not only be inconvenient but it has the potential to be catastrophic. Whether you are a homeowner or a business owner you will inevitably be affected when you are without electricity. There are a few different ways you can protect yourself or your business in the event of an emergency power outage.
(For the Homeowner)
First, always make sure you have a supply kit ready and waiting for you. It should include an abundance of water and nonperishable foods stored at a convenient location. Depending on the duration of the emergency power outage the food in you refrigerator and freezer may not last. Flashlights, candles and matches will also be a necessity during the night.
Second, you might want to think about purchasing a small portable generator. These units range in size from 1,000 watts up to 12,000 watts and are very affordable. You can utilize one of these generators to charge your cell phone, watch movies or work on your computer. If you have the correct equipment you might even be able to tie-in and back feed your entire house.
(For the Business Owner)
Many businesses choose to install a permanent emergency backup generator. If you can afford this option it will alleviate a great deal of anxiety and hassle. You can size that emergency generator to power up the entire building or it can be just big enough to provide power to your emergency lighting and server room. There is a great deal of flexibility if you have the funds to permanently install backup generator power.
Another option is to locate a generator rental company and inquire about emergency response. There are generator rental companies that are available 24 hours a day and can respond to your site with a rental generator, cable and certified electricians. Again, they can size the generator to fit your needs and should be able to have your business up and running in a matter of hours. This option can be much more cost effective if the emergency power outage is for a short period of time.
Be prepared and think about the options before the power outage occurs. Approaching hurricanes or other natural disasters often cause power outages. Give your local generator rental company a call today and set up a consultation. They will be able to provide you with generator sizing and connection options that will be tailored to your specific needs. Preparing for the power outage before it occurs is the key to keeping the computers running or the fridge cold.

Power Plus! is a leading provider of reliable non-radioactive power generators across the United States and Canada.

Have a question or comment for Power Plus!? We'd love to hear from you!
Please provide your contact information and we'll get back to you as soon as we can.

Contact Power Plus @ (800) 863-2525 | sales@powerplus.com